World View's 2012 Book of the Year:



That Used To Be Us


By Thomas Friedman and Michael Mandelbaum



THAT USED TO BE US: How America Fell Behind in the World It Invented and How We Can Come Back is co-authored by Thomas Friedman (New York Times foreign affairs specialist and three-time Pulitzer Prize winner, including one for The World Is Flat,) and Michael Mandelbaum (Director of the American Foreign Policy program at Johns Hopkins University, School of Advanced International Studies). World View considers That Used to be Us an essential book for educators to read and incorporate into classroom discussion, as teachers help students understand global issues and define the challenges America faces.
The title is taken from a 2010 quote by President Obama: "It makes no sense for China to have better rail systems than us, and Singapore to have better airports than us. And we just learned that China now has the fastest supercomputer on Earth-that used to be us."
The book's thesis is that America is in slow-motion decline because it has forgotten what made it great and has failed to maintain, when compared to its competitors, the following five pillars of American greatness. They are:

1. Education.
Historically, each generation of Americans achieved a level of education that greatly exceeded that of the previous one, and our mass education created the largest productive middle class in the world. Today the U.S. "sits at the bottom of the industrialized world by most measures of educational achievement." Shockingly, Fareed Zakaria reports that today 75 percent of young Americans are unable to enlist in the military "because they have failed to graduate from high school, have a criminal record, or are physically unfit." [1]

2. Infrastructure.
After World War II America developed the best infrastructure in the world-school buildings, roads, airports, water systems, etc. Today the American Society of Civil Engineers gives America's infrastructure a grade of D. It says decades of underfunding have left America's infrastructure with $2.2 trillion critically needed repairs.

3. Immigration.
America is a land of immigrants. Today foreign-born citizens represent just 12% of the U.S. population but have started 52% of Silicon Valley's tech companies and contributed to more than 25% of U.S. global patents. Friedman and Mandelbaum say our immigration system is broken and must be fixed. Peter Schuck, Yale Law professor, and John Tyler, general counsel of the Kauffman Foundation that studies innovation, more bluntly assert that America's immigration policy is just "plain stupid." I discovered this myself when trying to get a student visa and later a Green Card for a remarkable foreign student (valedictorian of a top Moscow high school and later Phi Beta Kappa at Davidson College). Today, 17 years after coming to America, she is a teacher of the year at one of America's best preparatory schools and still awaiting citizenship.

4. Government Support for Research and Development.
For the American economy to grow, particularly in an information age, research in every field is vital. We have failed to fund research as we did during WW II with the Manhattan Project and in the 50s with the space program after the Soviets launched Sputnik.

5. Government regulation.
A government that works has been essential to America's success. Government regulation is needed to "safeguard against financial collapse and environmental destruction." Just as important are "regulations and incentives that encourage capital to flow to America, lead innovators to flock to the U.S. because their patents and intellectual property will be protected, and inspire small businesses and venture capitalists to start up in America."
The challenges America faces today, Friedman & Mandelbaum state, only can be met successfully if America returns to its five-part formula on which American greatness was achieved. They warn that the country faces a critical choice: we either face the challenges immediately and "have a hard decade, or America will have a bad century."
Robert Phay, Director of World View
---
[1] Zakaria, Fareed. "Restoring the American Dream - Fixing Education." CNN Special. November 6, 2011.
World View's Online Globalization Course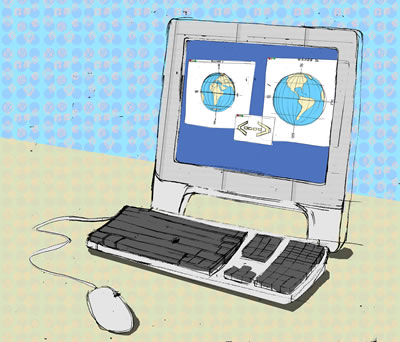 Globalization: An Introduction for K-12 Teachers & Administrators
April 5 - May 16, 2012
This 6-week online course immerses teachers and school administrators from all disciplines and grade levels in an intensive exploration of the rapid global changes in government, economics, environment and health, culture, and technology impacting our schools and communities, our country, and the planet. The goal of the course is to help K-12 educators become aware of the effects of globalization.
Registration for the Online Globalization Course is $275 per NC educator, but only $225 for World View Partners.
For more information or to register go to:
Foreign Currency Kits Available
The Foreign Currency Kit contains currency, both bills and coins, from over 35 countries and may be borrowed by educators in North Carolina. It is designed for K-12 educators as a learning tool, using tangible items to teach about people and places, as well as a means for integrating global content across multiple subject areas. Interested higher education educators may also borrow the Kit.

How can I borrow a Kit? Any North Carolina educator may borrow an available Kit for up to three weeks. To borrow a Kit, please download and read the lending policies and complete a "Lending Agreement".
What's in the Box? Money! In each Currency Kit there are coins and bills from over 35 countries or territories. The Foreign Currency Kit also contains useful reference books, a map, an inventory of coins and bills included and their country or territory of origin, as well as suggested educator activities.

FOR MORE INFORMATION VISIT:
Do you have information to share?
Do you have information that you would like to share with other educators across the state? You are welcome to submit interesting global education programs that are going on in your schools, announcements about global education seminars, new resources that others might find interesting, etc. Please email Julie at kinnaird@unc.edu with your "update-worthy" items!

Reader Mailbag
If you have comments about any of the information contained in the Global Update, send us an email! Perhaps your comments will appear here in this new section of the Global Update.
Disclaimer
World View at UNC-Chapel Hill provides information, resources, and announcements for educational purposes only. It does not represent an endorsement of organizations or point of view by World View or The University of North Carolina at Chapel Hill.
World View's spring seminars look at the historical, political, and culture issues impacting different regions of the world. This spring we will "take" educators to Latin America and Africa. Educators will enjoy talks by experts in the region being addressed and sessions that help integrate global issues into the classroom.


Seminars are for educators of all disciplines and administrators from K-12 and higher education.

1.5 CEU offered per seminar.
Location:
The Friday Center, UNC at Chapel Hill
Cost (NC educator):
$175 per person per seminar or $325 for both seminars. A team of 4 is $600 per seminar. A team is comprised of 4 or more individuals from a school, college, or district. Only $150 for each additional team member per seminar.
For more information or to register today please call 919/962-9264 or visit
Summer Travel

Join World View for an unforgettable experience and gain knowledge to add global content to your teaching, make lasting global connections, and create a global learning environment for your students. Applications being accepted for World View's Summer 2012 Study Visits to Costa Rica.

For more information go to:
worldview.unc.edu/

The Senegal Study Visit is currently full. If you would like to add your name to the wait list, please call Julie at 919/962.6785
Academic WorldQuest Competition

The International Affairs Council of Raleigh's annual Academic WorldQuest competition is open to local high school teams of four players each. A school may enroll more than one team. Academic WorldQuest features 100 questions about critical global issues.

The International Affairs Council of Raleigh's local competition is February 25, 9 a.m. - 1 p.m., at William Peace University in Raleigh. The winning team will represent the council at the national Academic WorldQuest competition in Washington, DC, in April.

For more information, visit www.iacnc.org/events.php
CAREER & COLLEGE
PROMISE WEBINAR

Join business leaders to learn more about Career & College Promise during this special 1-hour interactive webinar!

Date: Monday, January 30, 2012
Time: 3:30 - 4:30 PM EST

This webinar is part of a series of sessions co-hosted by the NC Business Committee for Education (NCBCE) and the NC Department of Public Instruction (NCDPI). The topic of this interactive webinar is to learn more about Career & College Promise, Gov. Perdue's commitment to helping every qualified student gain access to an affordable college education.

Qualified NC high-school age students can begin their two- or four-year college work, tuition free, while they are in high school allowing them to get a head start on their workplace and college preparation.

Join Dr. June Atkinson, Superintendent of Public Instruction, Dr. Bill Harrison, Chairman, State Board of Education and Dr. Scott Ralls, President of the NC Community College System to learn more about this opportunity for North Carolina students!

Space is limited. Reserve your Webinar seat now, click here.