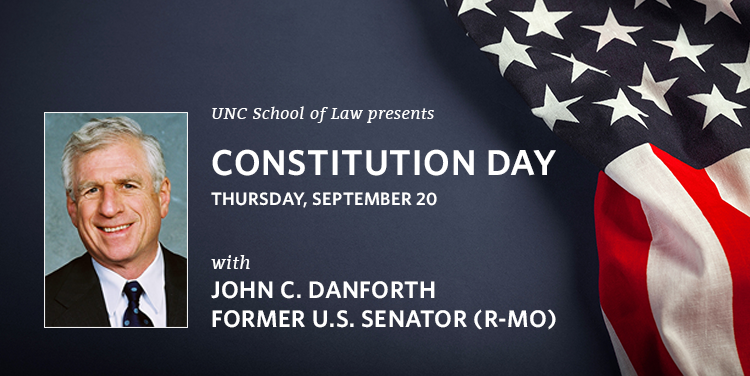 The UNC-Chapel Hill community is invited to celebrate Constitution Day on Thursday, Sept. 20, with guest speaker former U.S. Senator John C. Danforth (R-Mo).
Danforth will speak to law students about "Religion in American Life" at 11 a.m. at UNC School of Law and participate in a moderated colloquium open to the public at 2:30 p.m. in Gerrard Hall. William P. Marshall, William Rand Kenan Jr. Distinguished Professor of Law at the law school, will facilitate the morning discussion and Michael J. Gerhardt, Samuel Ashe Distinguished Professor of Constitutional Law at the law school, will moderate the afternoon conversation.
A reception with Danforth for undergraduate students from the UNC Institute of Politics will be held at the Campus Y after the lecture.
Danforth was a U.S. ambassador to the United Nations during the George W. Bush presidential administration and is an ordained Episcopal priest. He served three terms (1976-1995) as a U.S. senator from Missouri. Danforth earned his bachelor's degree from Princeton University and graduated from Yale University with law and Master of Divinity degrees.
Each year, UNC School of Law organizes the campus-wide Constitution Day celebration to commemorate September 17, the day on which the Constitution of the United States was signed. Constitution Day allows schools and colleges across the country to reflect on United States history, the deeper meanings within the Constitution and hopes it represents for the future. The University will celebrate the federal observance this year on September 20.
This year's celebration partners include the UNC School of Government; UNC School of Media and Journalism; Morehead-Cain Foundation; Robertson Scholars; Undergraduate Honors Program; Institute of Politics; and departments of public policy, political science, economics and history.