Helping military students complete their next mission
Many military veterans and those on active duty choose UNC Kenan-Flagler Business School as they prepare to transition to civilian careers.
Ben Read's Carolina journey began aboard on aircraft carrier in the North Arabian Sea.
In the summer of 2021, Read was an aviator with the U.S. Navy on the U.S.S. Dwight D. Eisenhower, managing air operations in the Middle East. His mission: helping withdraw American troops from Afghanistan.
Flights had just wrapped for the day when he got an email from UNC Kenan-Flagler Business School accepting him into the Full-Time MBA Program's Class of 2023.
"Everyone I worked with were huddled around the computer. When they saw I got in it was just big fist bumps, a bunch of celebrating," says Read. "I knew right then that UNC was where I was going to go."
After more than 10 years of active duty, Read had completed his final mission and was starting a new chapter. Since entering the U.S. Naval Academy 14 years earlier, his life had been flying an MH-60S Knighthawk helicopter and planning over 900 missions.
He wanted to start a new life with his wife centered around their shared goals. Flight school was Read's foundation to become a Navy pilot. Earning an MBA is his foundation to transition to civilian life.
And he is thrilled to be doing that at UNC Kenan-Flagler.
"I grew up knowing what comes with wearing Carolina blue," says Read, a Winston-Salem native. "It's the connections, the support and the prestige. But I was a little nervous. I was even maybe a little scared just to be transitioning out.
"But I was excited as I'd ever been in my whole life."
Brave new world
Active-duty military, veterans and military-affiliated students, including children and spouses of military members, from all branches and the Foreign Service are represented across all of the Business School's academic programs. They account for a large chunk of the 3,200 students, faculty and staff at UNC-Chapel Hill who are veterans, active duty or affiliated with the military.
At UNC Kenan-Flagler, active-duty and veteran students discover the skills they developed while serving — leadership, operations management, decisive problem-solving — are valued by employers in a wide range of business fields. While earning their MBA, they learn how to parlay their skills and experiences into new careers.
At any given time, there are up to 450 students at UNC Kenan-Flagler receiving some sort of financial aid tied to the military, says Karsen Spain, a veteran affairs specialist dedicated entirely to certifying military-related benefits for Business School students.
She estimates that around 90% of students use the GI Bill, a U.S. Department of Veterans Affairs program that often covers entire tuition costs and provides stipends for books. It also helps with housing for non-active duty students. Both Carolina and UNC Kenan-Flagler participate in the VA's Yellow Ribbon Program, which is designed to help with tuition and fees that the GI Bill might not cover.
Each year, Spain certifies all financial benefits for every military-affiliated Business School student, so there's one less thing for them to worry about.
"These are students who have done so much and sacrificed so much," says Spain. "To be able to help them with their education while they're active or going through that life-transition process, that just makes my job that much more meaningful."
The majority of students Spain works with are in the online MBA@UNC program. For the past few years, military-affiliated students have made up about 20% of MBA@UNC students and nearly 10% of the School's overall MBA enrollment.
For many students, the Master of Accounting and MBA Programs online formats are the best — and sometimes only — option to earn an advanced degree in a timely way because of the flexibility they provide.
Students can take classes while deployed around the world or travel to Chapel Hill on certain days as their military schedules allow for the Evening and Weekend Executive MBA Programs.
The new Charlotte Executive MBA Program has several military-affiliated students in its first class. With the addition of the Charlotte program, academic schedules for all Executive MBA programs are aligned, widening the accessibility for military students to take courses within other programs that their schedules might not have previously allowed.
That kind of flexibility was particularly attractive to Trish May '22 (MBA), who was stationed at Fort Bragg as a U.S. Army licensed clinical social worker. When she noticed her executive officer leaving the base every weekend, May asked her what she was doing.
"She said, 'Oh, I'm getting my MBA at UNC,'" says May. "I was like, 'Tell me more about that.'"
When May enrolled in the Weekend Executive MBA Program, she was based in San Antonio, Texas, as the clinical director for the Army's Family Advocacy Program. She flew in for weekend courses over the yearlong program. After completing 20 years of service with the U.S. Army in 2024, she plans to work full-time as the chief operations officer of Authentic Empire Music Group, a joint venture with her brother.
"The program was an amazing experience," says May. "I decided to join the military in the sixth grade, and so every decision I have made since then has had that in mind. Going through the program just opened my eyes up to things that I never thought about.
"It gave me an understanding of the world that I'm about to step into as a civilian."
Read, who is pursuing a real estate development career, found the support he needed at UNC.
"There is no question in my mind as to why the real estate concentration here is second to none," says Read. "It is the faculty and the staff and everyone who is committed to bringing you up to a superior level. Even as a career-switcher, they have helped me with recruiting, they have helped me with projects, they've given me advice on companies I can reach out to. And they're always available. Every door has always been open."
Unique needs
There are many firmly established forms of support for military students on Carolina's campus, such as the Carolina Veterans Resource Center, networking events and specialized career coaching within UNC Kenan-Flagler.
For more than 20 years, the School's defense and government programs offered through UNC Executive Development have provided tailored leadership training for military officers and civilians in executive roles.
But then there's the kind of support that can only come from other members of the military who have experienced business school, too.
"There's a certain level of candor that is expected when you speak veteran to veteran," says Will Perlik, an MBA student who served in the Army for more than eight years before coming to Carolina. "You have shared experiences and shared vernacular. You can get right down to discovering what a program's about and get a sense of whether it's the right academic and cultural fit."
Perlik finds that support on campus through the Kenan-Flagler Veterans Association. He serves as co-vice president of communications for the group, part social club, part networking opportunity and an always reliable support system. One day, there's a happy hour and the next day members help classmates connect with UNC alumni who are veterans and now business leaders.
"These are students who have done so much and sacrificed so much," says Spain. "To be able to help them with their education while they're active or going through that life-transition process, that just makes my job that much more meaningful."
While many military students come to the Business School to transition to a new business field or aim for an elevated position at a company, most are eyeing their first career out of uniform. They come with unique experiences and unique needs but don't want their military experience to define them.
"I was in the military for 14 years, so it's been a big part of my life," says Read, KFVA co-president. "I am trying not to let that part of my life overshadow this next step I take. There are a thousand lessons that I take with me from the military, but I don't want to ever be known in my next job as the 'helicopter guy.' I want to be known as a hard worker who's going to perform well for the company."
Maintaining that duality is challenging but seamless at UNC Kenan-Flagler. The camaraderie offered by the KFVA helps, as does the support of students who have never served or met someone who has. Perlik finds many classmates want to hear about his military experience and how the leadership and interpersonal communication skills honed while serving in the military translate to something businesses value. In almost all of his classes, professors have used at least one business case, technology or innovation related to the military.
"The professors are really good about bringing veterans into the conversation," Perlik says. "They ask us, 'Do you all have any experience with this?' and a lot of the times we do. The experience that veterans bring to the table is highly respected."
They are highly respected by the career coaching staff as well. Bill Faulkner, senior associate director for MBA career and leadership, has worked directly with hundreds of military students at UNC Kenan-Flagler.
He begins with one question: "What do you want to do?"
"Our career coaching for military students is a lot like the coaching we provide for all students, but it is very much directed at making pivots" says Faulkner. "I often walk my military students through how to transition from a very immersive life where you don't have much time to think about what's next to focusing on just that."
There are also career advisers at UNC Kenan-Flagler who know exactly what military students are going through. Spencer Shih, associate director of career coaching, spent 10 years in the Navy before earning his MBA from Cornell University. He focuses on healthcare and marketing career advising and hopes to also be a resource for military students.
"Business is one of the graduate degrees that's broadest in terms of potential careers to pursue. You get to choose your own adventure," says Shih. "And many of the most popular fields — consulting, marketing, product management — are receptive to hiring career changers."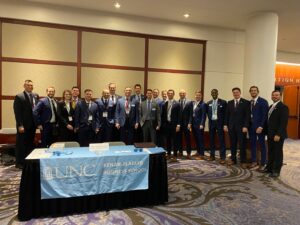 Career pathways often materialize through the annual MBA Veterans Career Conference and Expo hosted by the MBA Veterans Network. Each year, Faulkner and Sandra Chandler, associate director of employer engagement and recruiting, take a group of MBA students to the conference, which connects top business school students with recruiters from nearly 100 companies ranging from Amazon and Google to Deloitte and JP Morgan Chase. Many companies have dedicated veteran hiring programs.
The connections students make at the conference frequently lead to interviews and internships. Some lead to job offers.
"Our goal is providing student veterans with uniquely curated career support and experiences to help them make a transition to not just a job but to a career," says Chandler, who's dad was a Navy veteran. "That is always our mission."
"They are incredibly proven, incredibly talented, incredibly skilled and incredibly capable," adds Faulkner. "I think they often question how they will be able to use their skills across these other sectors or enter them successfully. I know hundreds of people who have done it before them and will do it after them. So, the answer is, yes. Yes, you can."
Finding the right path
Brady Powell '22(MBA) was 15 during the terrorist attacks on Sept. 11, 2001. After high school, he went straight into Army basic training and was commissioned as an infantry officer.
He served nine years on active duty, including two deployments to Afghanistan before leaving the military in 2018. In his last Army role as a company commander he was responsible for the training, welfare and performance of a 200-person cross-functional organization. In spite of the leadership and managerial experience he gained through military service, Powell didn't immediately know how to apply such skills to the next phase of his career.
"I saw the writing on the wall, both professionally and personally. I just looked up and was like, 'OK, am I going to commit to this and be on my way to 20 years to retirement?'" he says. "Leading soldiers was absolutely fantastic and the honor of a lifetime, but I don't think I ever truly saw the Army as a career. I felt it was a term of service tied to that specific war."
After taking a year off, he chose to pursue an MBA after many friends and mentors encouraged him to consider the degree's versatility. After graduating from the Full-Time MBA Program, Powell stayed in the Triangle and is a management consultant in the Raleigh office of Denmark-based Implement Consulting Group.
"Nobody is going to give you a job because you were in the military. They will give you a job because of things you did and the skills you developed," says Powell. "But I also don't think I could have been prepared for this job without what I learned at UNC Kenan-Flagler."
The situation was similar for MBA student Meagan Capra. After serving 10 years as an intelligence officer in U.S. Air Force, she explored other opportunities. While stationed at Fort Bragg, she looked at area schools. She wanted to stay in North Carolina and had heard how useful an MBA could be whether or not she remained in the military. She enrolled in the Weekend Executive MBA Program so she could remain on active duty and because she wanted in-person connections with faculty and classmates.
In addition to continuing as an intelligence officer, Capra took on another role in July 2022 — assistant professor of aerospace studies at NC State University. After graduation, she'll have even more opportunities to consider, such as a career in marketing or communications.
"I immediately felt like UNC Kenan-Flagler was the right choice for me," says Capra. "It's intense, but it's one of the things you go through with others and become really close because of it. You know, I'm in the military. That's what we do, too."